The North Central Iowa Marketing Alliance is a seven county consortium of development professionals with deep experience in executing successful projects. We offer free technical assistance and will walk with you every step of the way, knocking down barriers and speeding up processes. Our seven county North Central Iowa region makes up one of the best, most productive regions in the state.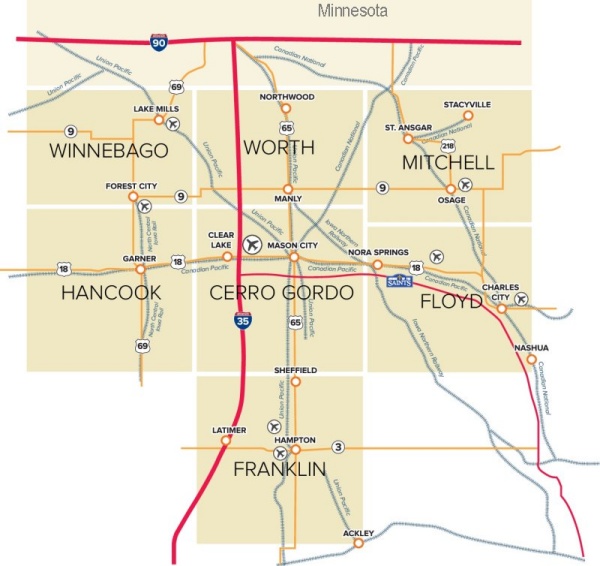 Our team of professionals include:
Chad Schreck, President & CEO
North Iowa Corridor
9 North Federal
Mason City, IA 50401
Toll-free 800-944-1708
641-423-0315 Office
641-423-5725 Fax
cschreck@northiowacorridor.com
Timothy S. Fox, MPP, CED, EDFP, PCED, Executive Director
Charles City Area Development Corporation
401 North Main Street
Charles City, Iowa 50616-2021
641-228-3020 x 13
641-257-9058 Mobile
641-228-4744 Fax
tfox@charlescityia.com
Karen L. Mitchell, Executive Director
Franklin County Development Assn.
5 1st St. SW
Hampton, IA 50441
641-456-5668 Office
641-430-2578 Cell
641-456-5660 Fax
fcdadirector@gmail.com
Jill Kramer, Executive Director
Hancock County Economic Development
650 West 3rd St.
Garner, IA 50438
641-923-3003
director@hancockcountyiowa.com
Teresa Nicholson, Executive Director
Winn-Worth Betco (Winnebago and Worth Counties)
PO Box 93 203 A N. 1st Ave. West
Lake Mills, IA 50450
641-592-0800
641-590-3590 Cell
647-592-0801 Fax
wwb@wctatel.net
North Central Iowa provides an outstanding business climate for your venture.
Renewable Energy
,
Food Production
,
Advanced Manufacturing
and
Ag Equipment Manufacturing